The Best Dressed Stars at the 94th Annual Oscars Ceremony
In a year of terrific opulence, these actors stood out.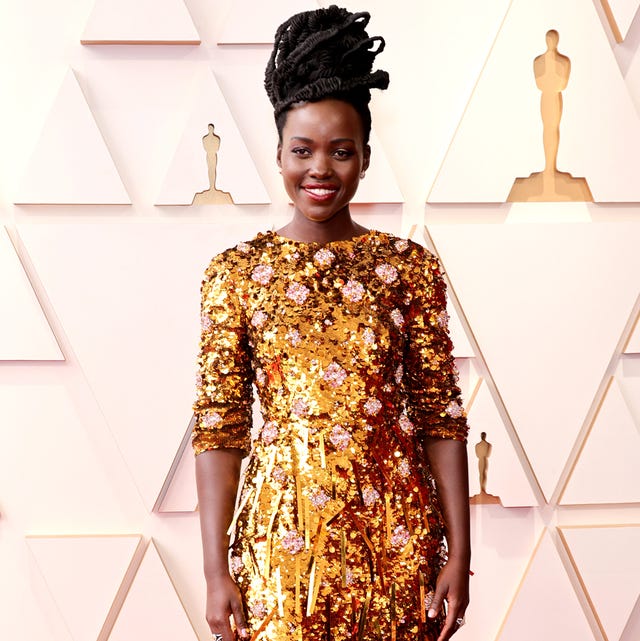 This year, the Academy Awards red carpet is back in full swing. Stars (and their all-powerful stylists) are reaching for decadent and statement-making Oscar ensembles, designers have been turning out more and more cerebral, fantastical, and emotional formal looks over the past two years, and many celebrities have been eager to embrace this new feeling of unbridled, big-personality glamour. Risk-taking style, for the first time in several years, is paying off on the red carpet. Still, in a year of terrific opulence, a handful of stars stood out. Ahead, the top 10 best dressed stars at the 2022 Oscar awards.
Nicole Kidman in Armani Prive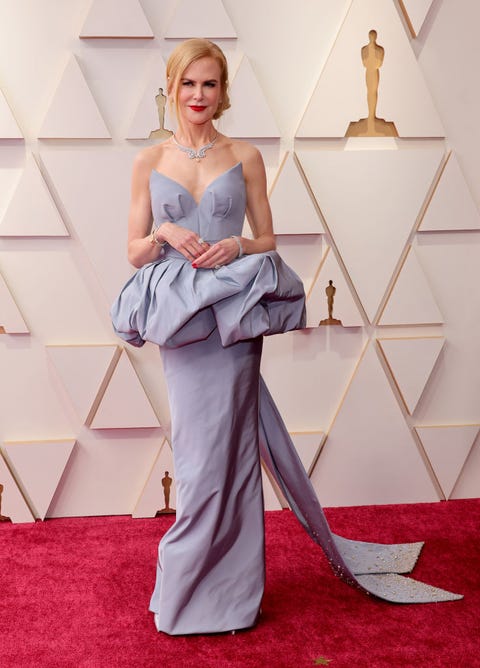 Nicole Kidman is nominated for playing the lady who invented yukking it up—Lucille Ball, in Being the Ricardos—but this Armani Privé gown is no joke. First, its peplum-ish ruffle is sort of genius, giving dynamism and playfulness while maintaining the lean column shape Kidman favors. But that color! It's a neutral, but hard to put your finger on; is it blue? Gray? Ice? Stone? Kidman said on the carpet that Mr. Armani, the man who inscribed neutrals into fashion history, created the shade for her after she told him she wanted to wear blue for the ceremony.
Tracee Ellis Ross in Carolina Herrera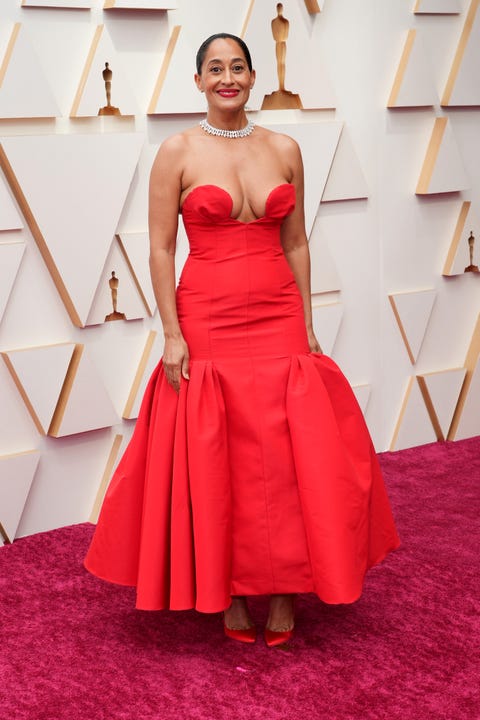 In her red dress, Tracee Ellis Ross has old Hollywood finesse—a trumpet skirt, red silk shoes (is there anything better than red silk shoes?!), and a double strand pearl choker. Then comes the bodice: subversive, swirling, sexy. She looks classic, but on a planet lightyears away from "boring."
Jessica Chastain in Gucci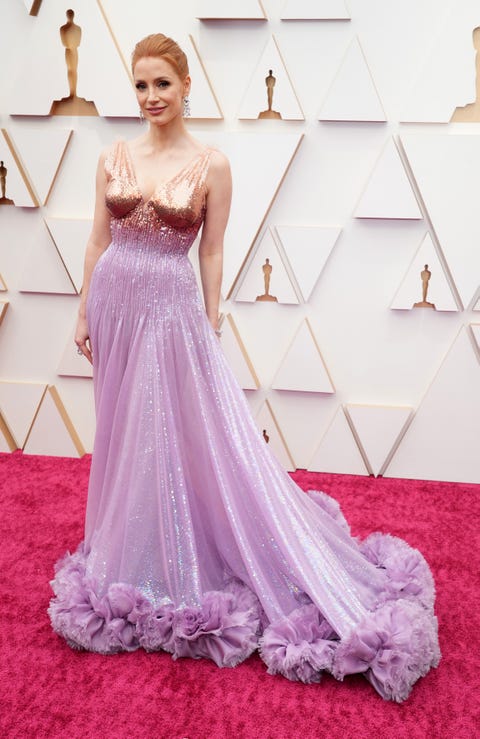 When you're a nominee—as Jessica Chastain is, as Best Actress for her titular role in The Eyes of Tammy Faye—it's tempting to dress for the theme of your film. Even when the theme is a very camp, very controversial, fanatical figure like Tammy Faye Bakker. But Chastain nailed it, in this glittery, out-there Gucci gown the color of the evangelist's preferred eyeshadow palette. The ruffle is perfectly wacky, and the bodice fits like a dream (or a sermon, depending on your affinity for Tammy Faye).
Kristen Stewart in Chanel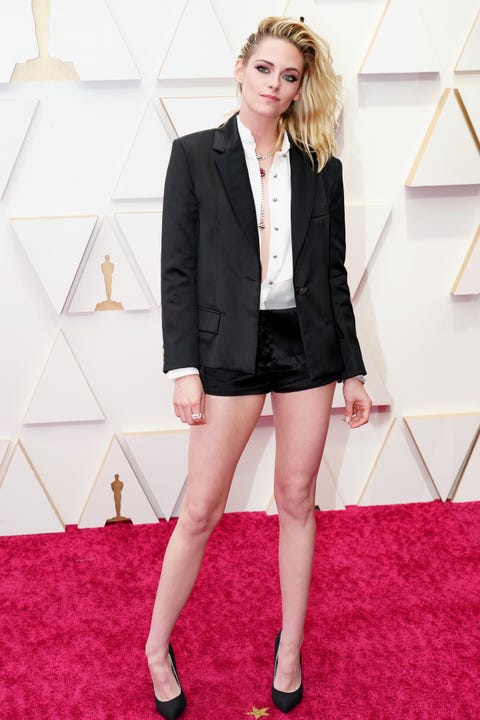 Kristen Stewart has made Oscars history as only Kristen Stewart can: in a pair of Chanel hot pants. "She has been wearing lots of gowns," her stylist Tara Swennen told BAZAAR.com, "but today was her day to do whatever she wanted." Stewart paired the short-shorts with a neatly cut tuxedo jacket and a silk shirt with just one button fastened, and a pearl necklace dropping elegantly down her neck. She looks rock 'n roll and most of all, so freaking happy. What makes this look one for the books is her commitment to dressing like herself.
Jada Pinkett Smith in Jean-Paul Gaultier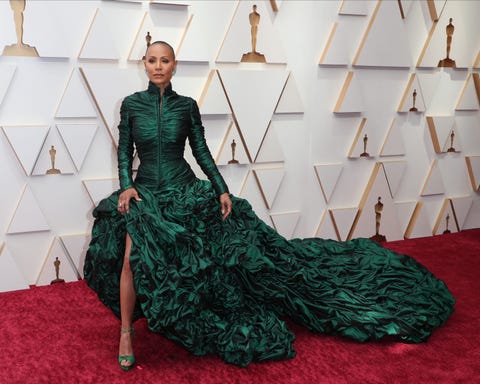 Once in a while, a couture collection goes viral—a state anathema to couture, perhaps, and all the more titillating for it. The latest to do so was a special collaboration between Jean-Paul Gaultier, fashion's greatest streetwise rapscallion, and his protégée Glenn Martens, of Y-Project and Diesel. His denim gowns were jawdroppers, but maybe only Jada Pinkett Smith is forceful enough to take on this hunter green taffeta festivity of a dress—she looks sublime, even domineering over this terrifically obscene sea of ruffles.
Alana Haim in Louis Vuitton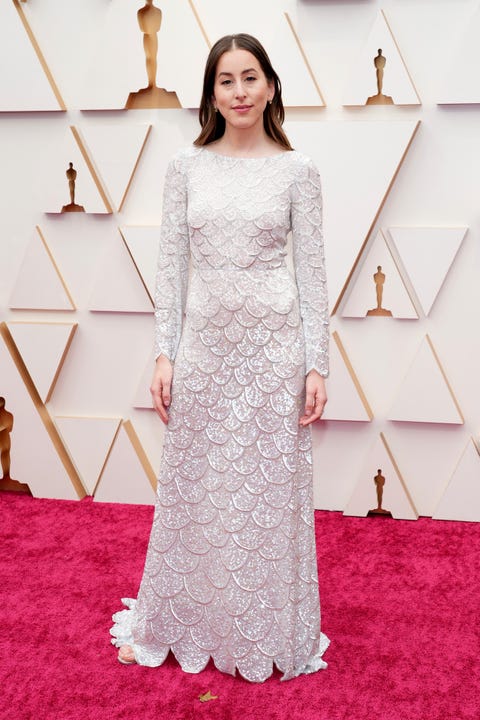 The big, enormous, kapow gown is great, sure. But there's something so suave, so fabulously contemporary, about the sleek, long-sleeved gown. Take Alana Haim in a Louis Vuitton column dress with laps and laps of pale cream sequins, for example. She looks a little bit like a fully formed, ultra-confident starlet from the studio system, and a lot like a total California girl with a Joni Mitchell addiction. In other words, fully like herself.
Demi Singleton in Miu Miu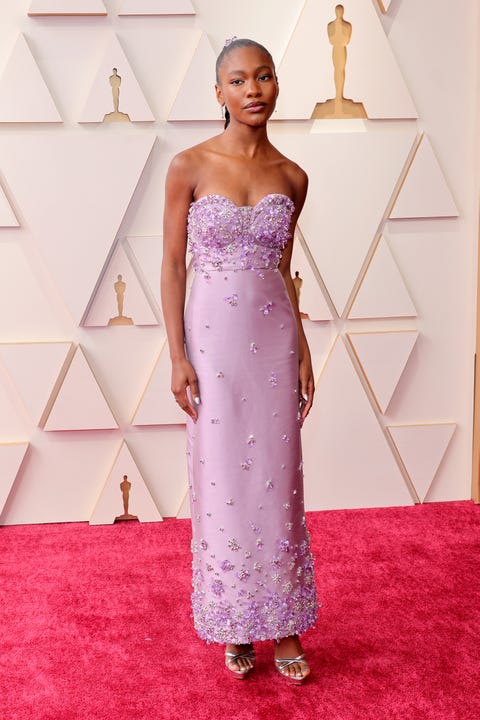 What is it about Miu Miu? Well, what is it about Demi Singleton? The first is a brand having a wild moment of virality after it made a very Y2K low-rise bad-ass schoolgirl skirt...The second is the star who played young Serena in Williams in the biopic King Richard. So here's what we talk about when we talk about "synergy": a brand that's all about the restless, bursting, marvelous feeling of being young and full of possibility, and a star who symbolizes it, wearing a potent lavender dress carefully beaded on the bodice and wildly sputtered with beads on the skirt.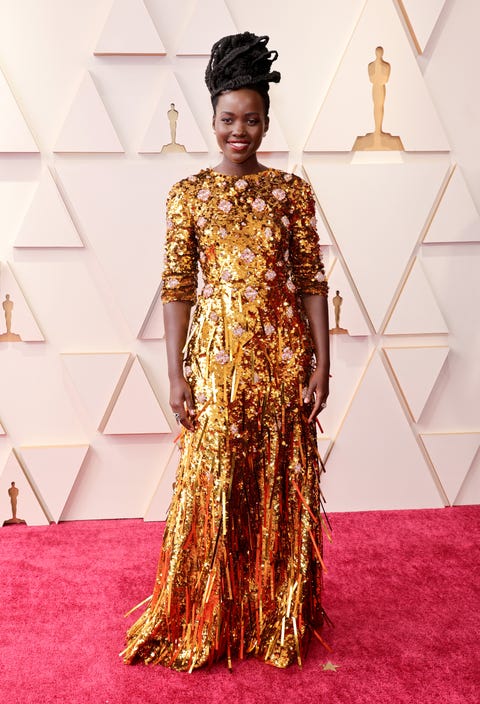 Let's cut to the chase: Lupita Nyong'o invented the red carpet ecosystem we're living in. She was the first actor to show us that taking red carpet risks could tell us something about the artist within, on the way to winning her Oscar for 12 Years a Slave in 2014. She is like a Prada interpreter: a woman with intense standards for her art, who feels that visual presentation is an essential part of her life. Prada made her leopard sequin dress, with pink cat spots and shards of gold spangles at the hem. While everyone else this year went big and classic, Nyong'o went cool, and it worked.
Uma Thurman in Bottega Veneta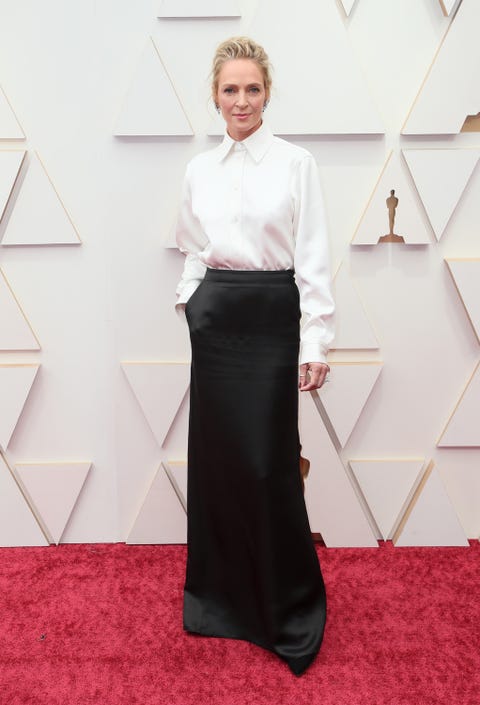 Yes, the Oscars are a "big deal" and they demand a "big look." But for a star as sophisticated and erudite as Uma Thurman, it's sort of an industry affair. That's what this custom Bottega Veneta look telegraphs, anyway: The silk shirt just a teeny-tiny bit oversized, and the black skirt fitted the way a skirt fits if a designer's team spends a zillion years thinking exactly about how a skirt should fit. She's got her hand slung in her pocket—no big deal. Poise is a quality all great actresses possess (and they never get enough credit for it). This look embodies that quality.
Tiffany Haddish in Dolce & Gabbana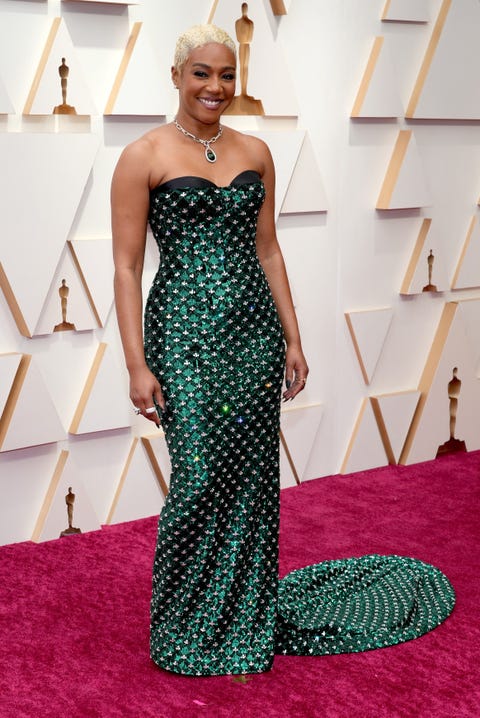 Red carpet sequins are basically undeniable. They tell you, in zillions of little shiny disks, that this is the business of sparkle, fantasy, and charisma. Tiffany Haddish reminded us of this alluring reality in a glitzy deep green strapless dress, with little white beaded florets. The color of the Dolce & Gabbana dress is emerald, true emerald—with a matching necklace to emphasize. Her bleached blonde hair complements the tone beautifully.
This content is created and maintained by a third party, and imported onto this page to help users provide their email addresses. You may be able to find more information about this and similar content at piano.io